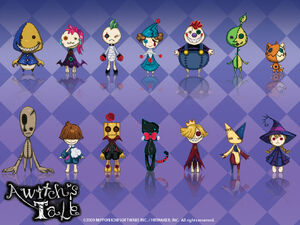 General Information
Edit
A Tauth Doll is a magical doll that acts as a witch's personal guardian and is thought to have the ability to grant wishes. They are very popular at Liddell's school and she has one named Dayna. When Dolls are first introduced to the player, Loue mentions having one of his own as well, which is most likely the obtainable Doll that looks like him. There are 30 Dolls in total, including Dayna, her 'upgrade', and the character-dolls.
If you ask the Q&A Shadow in Shadow Town one of the three given questions about Dolls, 'Where are they?' 'What are they?' and 'What is a Doll?', he will just answer that they are 'strange beings in general' and that 'Dolls are just dolls.'
Also in Shadow Town, there is a Doll Shop on the left side of town where if a doll in destroyed in battle, Owariki, the store owner, will repair it if you have Rainbow Thread. Rainbow thread is sometimes dropped by monsters and it in objects and chest in any Kingdom.
Special Dolls
Edit
After you save each kingdom, the princess of that land will advise you to find the crystal that's hidden in the kingdom. These crystals hold a doll that looks like the respective land's princess (ex. Crystal in Florin, Kaguya Doll; Crystal in Artis, Dorothy Doll). There's is also a doll for each of Queen Alice's servants (Mad Hatter, Dormouse, ect.). They're all found in different areas of the Maze Forest in Alice's World.
List of Dolls and Locations
Edit